Aistio - Complete System For The Energy Sector
Aistio's solutions focus strongly on improving energy efficiency both in buildings and in energy distribution. In the EU, efforts are being made to systematically improve energy efficiency through the Energy Efficiency Directive, which sets national energy savings targets.
Aistio's services can be used to ensure that energy efficiency is achieved, and the requirements of the Directive are met.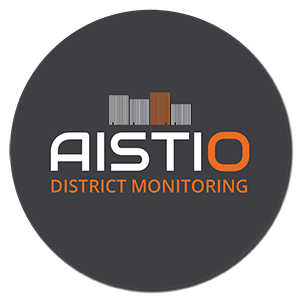 Aistio District Monitoring uses, as a source of data, the condition data of district heating chambers as well as the open data of the Finnish Meteorological Institute. With this information, we can create significant added value for the customer with regard to maintaining and servicing district heating chambers. In the future, integrations through the platform to, for example, applications used to manage the infrastructure or store network status data will create a link between the real world and the modelled environment (digital twin).
The Aistio District Monitoring system is capable to measure energy network wirelessly and able to provide pressure and temperature data. This information helps to optimise network delivery efficiency and thus achieve significant savings in energy distribution.
Our energy monitoring service, Aistio City Monitoring, effectively combines sources of data from, for example, individual consumption meters, district heating operators, water companies and the real-time interface with electricity companies. The centralised data collected for the service is standardised in order to provide comparable data for energy efficiency comparison. The data provided by the tool can be used to support decision making and, above all, to significantly facilitate reporting required by energy efficiency agreements. Reports are generated from the system at the click of a mouse.